USS Cole DDG-67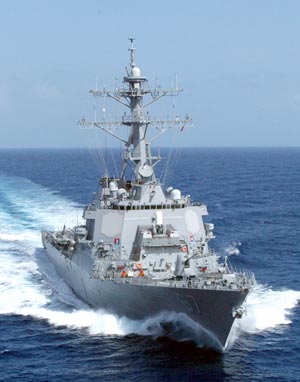 ---
Overview
---
General characteristics
Class and type :
Arleigh Burke class destroyer
Displacement :
Light: about 6,800
long tons (6,900 t)
Full: about 8,900
long tons (9000 t)
Length :
154 m (505 ft)
Beam :
20 m (66 ft)
Draft :
9.4 m (31 ft)
Propulsion :
4 General Electric LM2500-30
gas turbines, two shafts,
100,000 total shaft
horsepower (75 MW)
Speed :
56 km/h ( > 30 knots)
Range :
8,100 km at 37 km/h,
4,400 nautical miles
at 20 knots
Complement :
33 Officers,
38 Chief Petty Officers,
210 Enlisted Personnel
Ship systems :
n/a
Electronic warfare :
n/a
Armament :
n/a
Armor :
n/a
Aircraft carried :
1 Sikorsky SH-60 Seahawk
helicopter
Motto :
n/a
Nicname :
n/a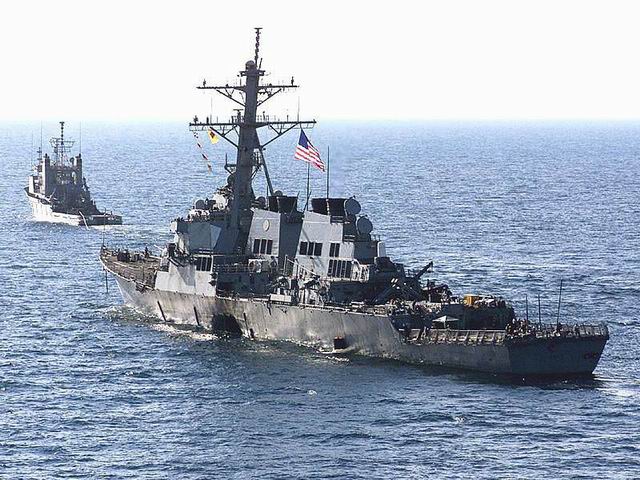 ---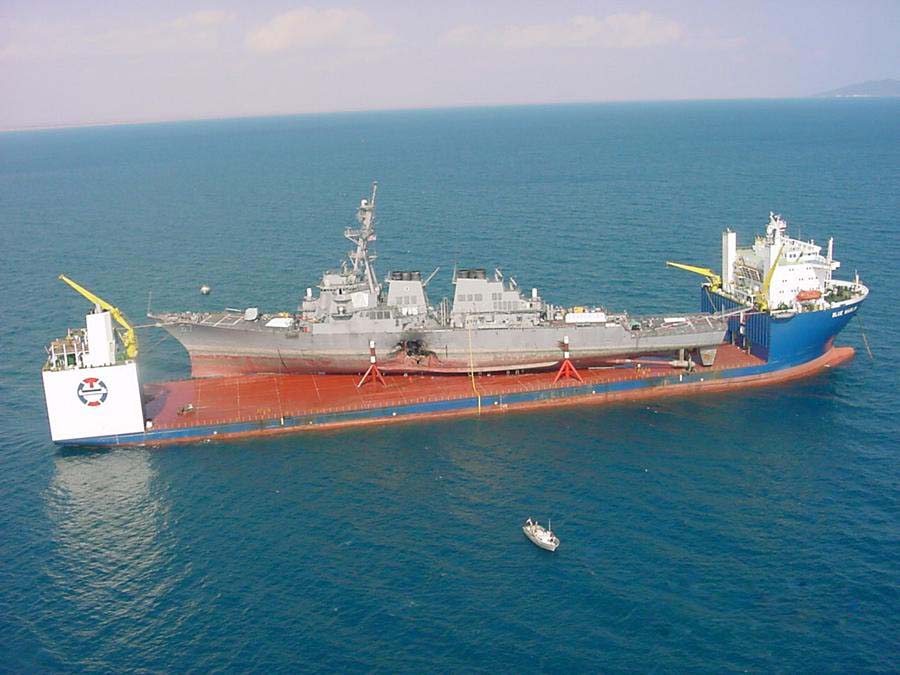 The USS Cole (DDG 67) is the second ship that has this name, it is a Aegis-equipped guided missile destroyer from the Arleigh Burke class. The USS Cole is homeported in Naval Station Norfolk, Virginia. The name Cole is in honor of a machine-gunner Darrell S. Cole (US Marine Sergeant), killed in action on Iwo Jima on the 19th of February 1945. The construction of the USS Cole was awarded to Ingalls Shipbuilding and the USS Cole was delivered to the U.S. Navy on the 11th of March 1996.
Ship's seal
Design and construction
Naming
Technology
Operational Service
Al-Qaeda attack
On
12 October 2000
, while being at anchor in
Aden
, the USS Cole was attacked by several Al-Qaeda suicide bombers. The terrorists sailed with a small boat near the destroyer and detonated explosive charges. The power of the blast was so big that it created a hole in the port side of the ship about 12 m (40 feet) in diameter. The attack took the lives of 17 crewmembers and also injured 39. At the time of this attack the ship was under the command of
Commander
Kirk Lippold
.
Upgrade
On
12 November 2009
, the
Missile Defense Agency
announced that the USS Cole would be upgraded during fiscal year 2013 to RIM-161 Standard Missile 3 (SM-3) capability in order to function as part of the
Aegis Ballistic Missile Defense System
.
Commanding officers
See also
Further reading
Arleigh Burke class