Air Florida Flight 90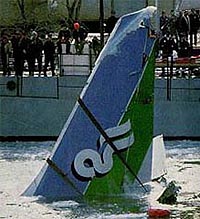 ---
Accident summary
On
13 January 1982
a
Boeing 737-200
belonging to
Air Florida
and operating Air Florida Flight 90, a scheduled domestic passenger service from
Washington National Airport
to
Fort Lauderdale - Hollywood International Airport
with a stopover at
Tampa International Airport
crashed into the
14th Street Bridge
over the
Potomac River
.
The National Transportation Safety Board - (NTSB
) determined that the cause of the accident was pilot error. The pilots had little experience flying in winter conditions and failed to switch on the engines' internal ice protection systems, used reverse thrust in a snowstorm prior to takeoff. Furthermore they failed to abort the takeoff even after detecting a power problem while taxiing and visually identifying ice and snow buildup on the wings.
Aircraft
The aircraft was originally purchased by
United Airlines
in
1969
and flown with the registration number of
N9050U
. In
1980
it was sold to
Air Florida
.
Background
Accident
Search and recovery
Passengers and crew
Investigation
Conclusions
Aftermath
In popular culture
Further reading
Aircraft accidents caused by pilot error
Aircraft accidents caused by atmospheric icing
List of aviation accidents by year