Helios Airways Flight 522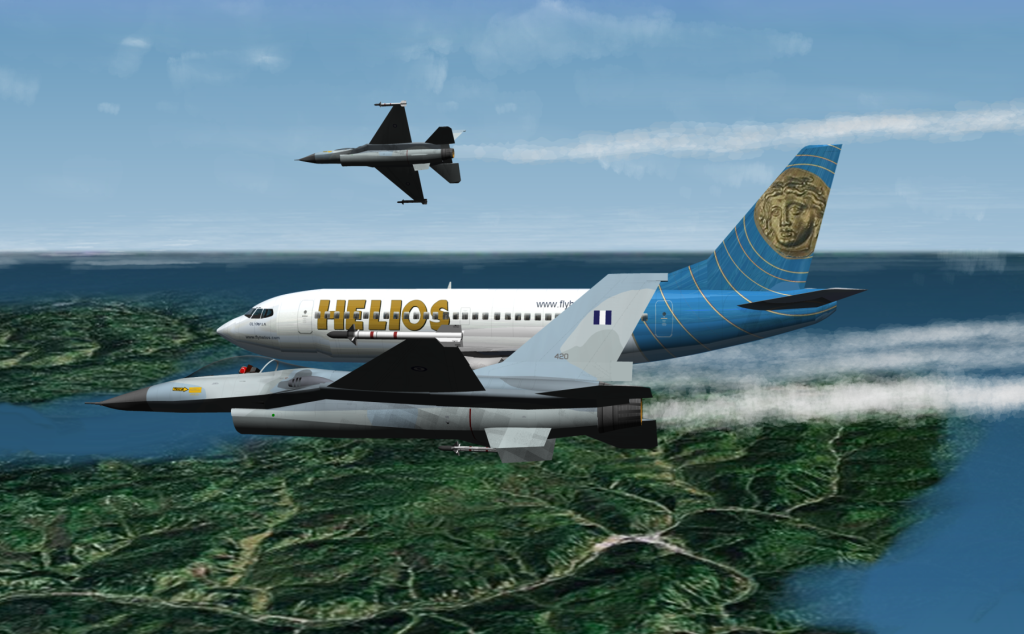 Accident summary
Helios Airways Flight 522 (Flight numbers: HCY 522 or ZU522) was a scheduled passenger flight operated by
Helios Airways
which crashed into a mountain on the
14 August 2005
, just nort of
Marathon
,
Greece
while enroute from
Larnaca Airport
to
Prague Airport
with scheduled stopover at
Athens Airport
The accident was caused by lack of oxygen that incapacitated the crew and passengers, although the airplane kept flying on autopilot and performed holding patterns it eventually run
run out of fuel
and crashed near
Grammatiko
just 40 km (25 mi) from
Athens
. All the 121 people on board (115 passengers and 6 crew) were killed in the crash - this being the deadliest aviation disaster in
Greece
. The aircraft that operated the flight was a
Boeing 737-31S
. This was the
69th
crash of a
Boeing 737
. It is also the
fourth-deadliest
crash involving a
Boeing 737-300
.
Aircraft
The incident
aircraft
performed its
maiden flight
on
29 December 1997
and was operated initially by
DBA
starting with
1998
. Later on
16 April 2004
Helios Airways
leased the plane registered it as
5B-DBY
and gave the name Olympia to the aircraft. At the time of the accident
Helios Airways
had another three leased planes, two
Boeing 737-800s
and an
Airbus A319
.
Background
On the day of the fatal flight the aircraft arrived from
London Heathrow Airport LHR EGLL
at 01.25 AM in the morning and was scheduled to depart
Larnaca Airport
,
Cyprus
at 09.00 AM local time for
Prague Airport
with a stopover at
Athens Airport
.
Accident
Search and recovery
Passengers and crew
Crew
The captain was a 58 years old German contract pilot -
Hans Jürgen Merten
who had a contract with
Helios Airways
for the duration of the holiday season. He had 16 900 flight hours accumulated during a 35 year old career which included flying for
Interflug
before
1990
. The first officer -
Pampos Charalambous
, 51 years old, was a Cypriot pilot who flew for Helios for the last five years. He had accrued 7 549 flight hours during his career. The chief purser was
Louisa Vouteri
, 32 years old, a Greek national living in Cyprus. She was replacing a sick colleague.
Investigation
Conclusions
Aftermath
Dramatization
Helios Airways flight 522 was featured on the documentary series
Air Crash Investigation
(or
Mayday
in some markets) in the episode called
Ghost Plane
The crash site today
The
wreckage
of the aircraft was removed from the site and a large cross and a church have been built in the memory of the victims of Helios Airways Flight 522. These are accessible by car and are clearly signposted.
Further reading
List of aviation accidents by year
Airlines in Greece
Fuel exhaustion