IFO-21 - USAF Boeing CT-43A crash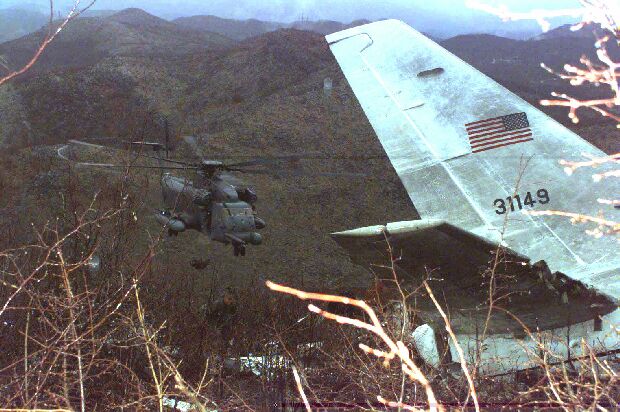 ---
Accident summary
On
3 April 1996
special trade mission flight IFO-21 a
USAF
Boeing CT-43A
crashed on approach to
Dubrovnik Airport
during an official trade mission killing all 35 people on board. The
Boeing CT-43A
was carrying the United States Secretary of Commerce
Ron Brown
and some other notable people like The New York Times Frankfurt Bureay chief
Nathaniel C. Nash
. The plane crashed into a mountainside while attempting an
instrument approach
. Initially there was one survivor
Air Force Technical Sergeant
Shelly Kelly
who received only minor injuries however she died three hours after the crash due to an injury sustained in the ambulance.
The aircraft involved in the crash was operated by the
86th Airlift Wing
, based at
Ramstein Air Base
in
Germany
. Due to the fact that this was a modified 737 for military use it wasn't equipped with a
flight data recorder
or a
cockpit voice recorder
.
Aircraft
The Boeing CT-43A that was used for this flight was formerly a T-43A navigator training aircraft, converted for distinguished visitor travel.
Background
Accident
Crash site
The crash site was on a 2,300 ft (701 m) hill at about 1.6 miles (2.6 km) northeast of the aircraft's planned course.
Passengers and crew
There were 30 passengers and 5 crew members on board at the moment of the accident. Among the passengers were
United States Secretary of Commerce
Ron Brown
, The New York Times Frankfurt Bureay chief
Nathaniel C. Nash
.
From all 35 people on board only one initially survived the crash -
Air Force Technical Sergeant
Shelly Kelly
who received only minor injuries. She died however three hours after the crash due to an injury sustained in the ambulance.
Conclusions
The official report by an Air Force accident investigation board report noted several reasons that led the Boeing CT-43A, callsign IFO-21 (short for Implementation Force), to crash. The most important among the findings was a "failure of command, aircrew error and an improperly designed instrument approach procedure". It is noteworthy that the weather was not considered a substantial contributing factor in the crash.
Aftermath
The head of navigation on
Cilipi Airport
,
Niko Jerkuic
, was found dead (with a bullet wound in his chest) three days after the accident .
Legacy
The location of the crash site is identified by a large (10 metre tall) stainless steel cross on
Strazisce
peak. Hikers can reach the peak via the Ronald Brown path which is named in commemoration of the U.S. Secretary of Commerce who died in the crash.
A memorial room has been installed in the Ronald Brown memorial house in the old city of Dubrovnik. It features portraits of the crash victims as well as a guest book.
The crash of this special trade mission flight is featured in episode 10 of the 4th season of the air-crash investigation television show
Air Crash Investigations
(called
Mayday
in the US), entitled
Fog of War
.
Further reading
List of aviation accidents by year